Find answers to the most asked questions below. If you cannot find an answer to your question do not hesitate to visit our support zone or contact our support team at support@evosep.com.
(Q1) Can I use my own columns?
(A1) We do not recommend using other type of columns. The Evosep One methods are optimized for Evosep One columns.
(Q2) Can I use my own StageTips?
(A2) No, the Evosep One is accurately designed for a perfect low-pressure, leak-free fit with Evotips. Using other pipette tips will void instrument warranty.
(Q3) Can I reuse Evotips?
(A3) No, once used the plastic in the Evotips will be slightly deformed and cannot be used again. Doing so will void instrument warranty.
(Q4) Can I change the method?
(A4) No, methods are fixed for optimal performance.
(Q5) What is the minimum sample volume I can load?
(A5) We recommend loading 20ul of sample, but volume can be changed if the loading protocol is adapted accordingly (higher volume => Longer centrifugation time, lower volume => shorter centrifugation time)  
(Q6) What is the maximum sample load / loading capacity?
(A6) 1µg
(Q7) How do I set a constant flow from start when my sample queue is completed?
(A7) Add the "Prepare flow to column, Idle flow" script to the queue.
(Q8) Can I use other solvent compositions than 100% Water and 100% Acetonitrile with 0.1% formic acid?
(A8) No, Evosep One methods are optimized using 100% water as solvent A and 100% Acetonitrile as Solvent B (both with 0.1% formic acid, both in LC/MS grade quality).
(Q9) Is it possible to use direct infusion on the Evosep One system?
(A9) No, direct infusion is not possible with the Evosep One system.
(Q10) What is the stationary phase of the Evotip?
(A10) The stationary phase of the Evotip is C18.
(Q11) Is it possible to use Evotips with other resins for example with C4 or C8 material.
(A11) No, Evotips are only available with C18 material.
 (Q12) What are the column dimensions for the different methods.
(A12) See answer (A15) for available methods.
(Q13) What is the flow during sample elution to MS.
(A13) It varies from method to method, please see the table under (A15)
(Q14) How to check which version of the Evosep One Chronos plugin is installed.
(A14) In Windows 10 go to the menu called "App & features" and click the Evosep One Chronos Plugin icon. On older Windows versions the info can be found under programs & features.
(Q15) Which methods are available?
(A15) Available methods are shown in the table below: 
| | | | | |
| --- | --- | --- | --- | --- |
| Throughput (samples/day) | Cycle Time (min) | Gradient Length (min) | Flow rate (µl/min) | Column dimensions (length/ID/C18 bead size) |
| 300 | 4.8 | 3 | 4 | 4cm / 150µm / 1.9µm |
| 200 | 7.2 | 5 | 2 | 4cm / 150µm / 1.9µm |
| 100 | 14.4 | 12 | 1.5 | 8cm / 100µm / 3µm |
| 60 | 24 | 21 | 1 | 8cm / 100µm / 3µm |
| 30 | 48 | 45 | 0.5 | 15cm / 150µm / 1.9µm |
(Q16) Where do I find Documentation and software for the Evosep One
(A16) Please visit the Evosep Support Zone, which holds newest software releases, manuals etc. or the Evosep One product page for application notes on the standard methods etc.
(Q17) What peak shape can I expect using Evosep One?
(A17) The symmetry factor of especially the hydrophilic peptides are slightly affected and show tailing because the Evosep One methods are optimized for the highest number of peptide identifications and most efficient utilization of the mass spectrometer (elution window). 
(Q18) Can I collect the flow through when loading my sample on the Evotips?
(A18) Yes. By using the soak adaptor with part no EV1068 and the Thermo Scientific Nunc deep well plate with part no. 260251 it is possible to collect up to 500 µl from each tip.
With this insert you can collect 500 µl of flow through.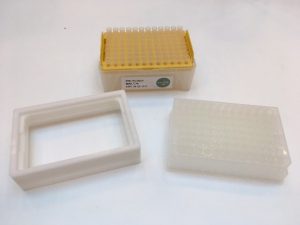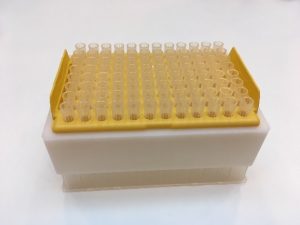 We'd love to hear from you!
Need more information, do not hesitate to contact us.