Welcome to the Evosep Literature Room, your shortcut to our knowledge base. Here, you can find the latest material presented by Evosep and our collaboration partners and also discover older publications and videos.
Oncogenic Mutations Rewire Signaling Pathways by Switching Protein Recruitment to Phosphotyrosine Sites

The need for scalable methods for functional annotation of phosphotyrosine sites has led the Olsen group, Novo Nordisk Foundation Center for Protein Research in Copenhagen, to develop a new mass spectrometry-based workflow for high-throughput analyses.  
Authors: Alicia Lundby, Giulia Franciosa, Kristina B. Emdal, Jan C. Refsgaard, Sebastian P. Gnosa, Dorte B. Bekker-Jensen, Anna Secher, Svetlana R. Maurya, Indranil Paul, Blanca L. Mendez, Christian D. Kelstrup, Chiara Francavilla, Marie Kveiborg, Guillermo Montoya, Lars J. Jensen, Jesper V. Olsen 5
Standardized and scalable plasma protein quantitative profiling workflow using human blood based on a Thermo Scientific Q exactive platform

Together, Thermo Fisher Scientific and Evosep are on a joint mission to develop standardized and scalable plasma protein quantitative profiling workflows. Our recent developments have been featured in this application note by the Precision Medicine Science Centre led by Dr. Emily Chen.
Authors: Jing Wang, Sarah Trusiak, Ryan D. Bomgarden, Sergei Snovida, Michelle Dubuke, Emily I. Chen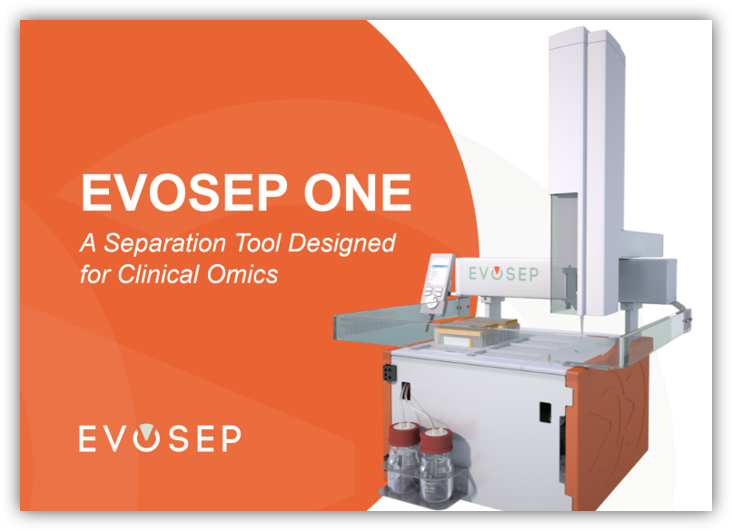 TECH NOTE: EVOSEP ONE: A GRADIENT OFF-SET FOCUSING UHPLC INSTRUMENT FOR ROBUST AND HIGH THROUGHPUT PROTEOMICS
Evosep One has been designed specifically to address and eliminate the prevalent challenges associated with throughput and robustness of nano-flow LC-MS workflows while maintaining sufficient sensitivity and resolving power for clinical omics applications.
Authors: Nicolai Bache, Ole Hoerning, Lasse Falkenby and Ole Vorm
DID YOU NOT FIND WHAT YOU WERE LOOKING FOR
at the Evosep Literature Room

?

If you did not find what you where looking for do not hesistate to contact us with any questions or comments you might have at sales@evosep.com.