Welcome to the Evosep Literature Room, your shortcut to our knowledge base. Here, you can find the latest material presented by Evosep and our collaboration partners and also discover older publications and videos.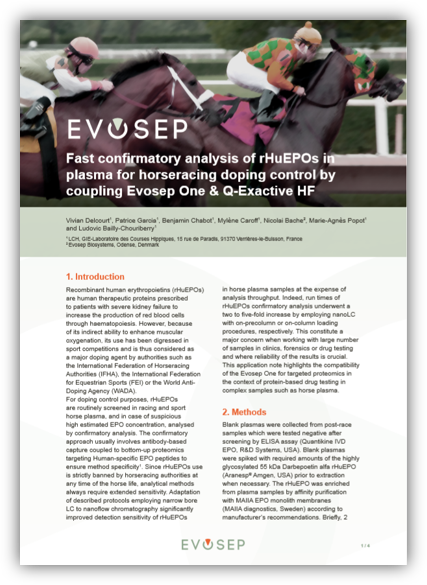 APPLICATION NOTE: FAST CONFIRMATORY ANALYSIS OF RHUEPOS IN
PLASMA FOR HORSERACING DOPING CONTROL
Fast confirmatory analysis of rHuEPOs in plasma for horseracing doping control by coupling Evosep One & Q-Exactive HF
Authors: Vivian Delcourt, Patrice Garcia, Benjamin Chabot, Mylène Caroff, Nicolai Bache, Marie-Agnès Popot and Ludovic Bailly-Chouriberry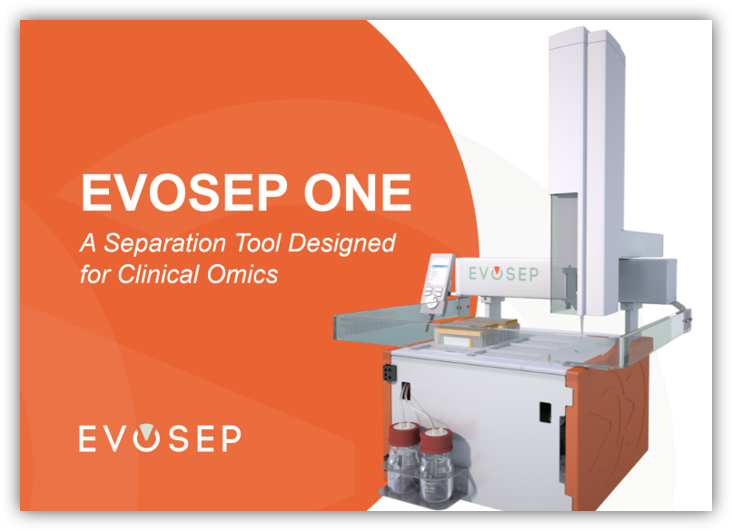 TECH NOTE: EVOSEP ONE: A GRADIENT OFF-SET FOCUSING UHPLC INSTRUMENT FOR ROBUST AND HIGH THROUGHPUT PROTEOMICS
Evosep One has been designed specifically to address and eliminate the prevalent challenges associated with throughput and robustness of nano-flow LC-MS workflows while maintaining sufficient sensitivity and resolving power for clinical omics applications.
Authors: Nicolai Bache, Ole Hoerning, Lasse Falkenby and Ole Vorm

(JUNE 2019)

Thermo Fisher Scientific Announces Collaboration to Revolutionize Profiling of Large Plasma Sample Cohorts in Protein-based Clinical Research Studies

ASMS 2019 – Thermo Fisher Scientific and Evosep have entered into a collaboration to develop high-throughput clinical research proteomics workflows for profiling large plasma sample cohorts for proteomics, translational research and pharmaceutical applications.
Study: Increased De Novo Protein Sequencing Coverage with Optimal Protease Cocktail

This study from Rapid Novor Inc presents how they de novo sequence 166 mAb using Evosep One coupled to Thermo Fisher Scientific Orbitrap Fusion Series instrument.  
Authors: Le Bihan, T., Taylor, P., McDonald, Z., Liu, Q., Shen, J., Gorospe, K., Xu, X., Hosfield, C., Ma, B.
DID YOU NOT FIND WHAT YOU WERE LOOKING FOR
at the Evosep Literature Room

?

If you did not find what you where looking for do not hesistate to contact us with any questions or comments you might have at sales@evosep.com.