EVOSEP 

AT ASMS
Find material presented at ASMS 2018 and see some of our many activitites from this years' conference in San Diego. 
Posters
Available posters presented from Evosep and our or collaboration partners at ASMS can be downloaded here:
DEVELOPMENT OF A NOVEL LC CONCEPT FOR CLINICAL PROTEOMICS
Mass spectrometry based proteomics and metabolomics are fast growing and powerful technologies, with the potential to revolutionize health care and precision medicine. Here we describe a conceptually novel low-flow chromatography system, that delivers the robustness and throughput required for clinical applications while maintaining the sensitivity of current nano-flow LC instrumentation.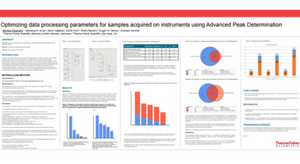 OPTIMIZING DATA PROCESSING PARAMETERS FOR SAMPLES ACQUIRED ON INSTRUMENTS USING ADVANCED PEAK DETERMINATION
Thermo and Evosep's data from the joint use of the Evosep One system and Thermo's QExactive mass spectrometers. The samples were measured using an Evosep One coupled to an Q Exactive HF-X Hybrid Quadrupole-Orbitrap mass spectrometer, and the Evotip technology improves overall system throughput and robustness by reducing column clogging and carryover.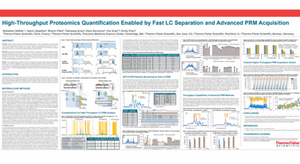 HIGH-THROUGHPUT PROTEOMICS QUANTIFICATION ENABLED BY FAST LC SEPARATION AND ADVANCED PRM ACQUISITION
Depth of coverage in shotgun proteomics workflows is usually achieved by high resolution nano-LC peptide separation, coupled to ESI-MS/MS. While good analytical depth is currently achievable, reaching the throughput required to analyze hundreds or even thousands of samples needed to obtain sufficient statistical power for biomarker validation studies, is unachievable with traditional nano-ESI LC-MS/MS systems.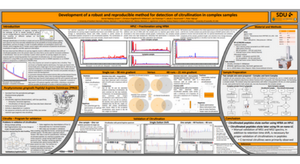 Development of a robust and reproducible method for detection of citrullination in complex samples

An initial separation by traditional LC using HFBA as ion-pairing reagent followed by short LC-MSMS separation on an EVOSEP system is compared to a traditional LC-MS/MS setup, with the aim of developing a system, where specific ion pairing reagents are used to separate arginine, containing peptides from equivalent citrullinated ones.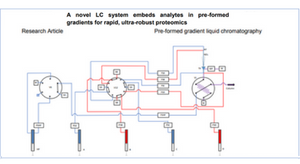 A novel LC system embeds analytes in pre-formed gradients for rapid, ultra-robust proteomics
This paper presents a novel concept that opens entirely new possibilities in proteomics in general and in clinical proteomics. With a simplified design it enables a robust operation over thousands of sample injections and analyzes samples in an extremely robust and high throughput manner, without sacrificing in depth proteomics coverage.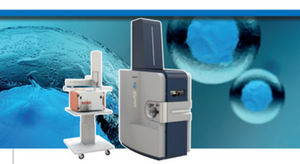 TIMSTOF PRO WITH PASEF AND EVOSEP ONE: MAXIMIZING THROUGHPUT, ROBUSTNESS AND ANALYTICAL DEPTH FOR SHOTGUN PROTEOMICS

The recent release of EVOSEP one, has changed the game, ceasing the need for concatenation and cutting MS analysis time in half. The results presented here demonstrate combining the timsTOF Pro and the Evosep One, for the first time enables high-throughput measurements while maintaining analytical depth.
rapid proteome analyses using the evosep one 
For ASMS 2018 we invited customers and collaboration partners to present their experiences using the Evosep One system. At our breakfast seminar Prof. Jesper Olsen, from Olsen Group at Center for Protein Research presented "Rapid Proteome Analyses Using the Evosep One". Watch full video here (subtitles are available in English):  
At the 66th Conference on Mass Spectrometry and Allied Topics, Thermo Scientific and Evosep announced a joint effort to develop and promote robust, high-throughput workflows for clinical proteomics.
Read full press release here
In their press release at the 66th ASMS Conference, Bruker announces full integration with the Evosep One separation device with Bruker's Hystar LC/MS control for high-throughput clinical proteomics of up to 200 samples per day. This novel combination delivers superb sensitivity (50 ng HeLa) and high throughput for LFQ of ~1,200 proteins in only ~5 minutes.
Read full press release here